The choices for your digital compendium app
When deciding which software to use as your digital compendium app (or Welcome Guide), you need to decide which one is the best fit for your accommodation business.
Extra setup:

At Orana Stay, we take the headache out of getting your digital compendium set up. We know and understand the challenges you face on a day-to-day basis, so we undertake the initial setup for you.

Templates:

 So templates are great, but they are not personal. Because we will spend a few hours talking to you about your area, your unique benefits for guests, and what the best local attractions are, a template is great, however, nothing beats a personalized experience for guests.

Keep it Simple:

 One of the key goals when creating a digital welcome guide is to:

Be brief:

 Keep everything short and straight to the point. You want guests to read to the end, so keeping it short ensures this.

Be crystal clear:

 Don't assume everyone understands what you say or mean. Stick to simplicity to keep your message clear.

Let a friend read it:

 We always get each guide independently read. If you make future changes, you should always get a friend to read it first.

Use the shortcodes:

 At Orana, you automatically get assigned a shortcode to use in all electronic messaging, such as emails or SMS. Use this to promote your guide from bookings to general inquiries.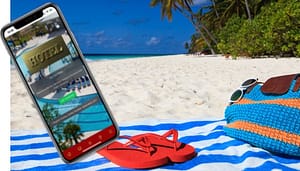 When it comes time to create your brand new compendium app, we will typically have a session with you to gather all the required information. This will still need some input from you, and it is key to your success long term.
A letter of welcome
A guest loves nothing less than getting a personalized welcome from you. You could use a template, but nothing beats creating a welcome for the welcome guide that comes from you.
A travelers checklist
It is critical to let all guests know what you supply. It allows guests to plan and only pack what they need. During our research, we will ask you what you provide to ensure this is clearly conveyed in the digital welcome guide.
Your check-in and check-out instructions
Provide easy-to-follow instructions for guests. Guests typically struggle to find booking emails and instructions, especially when they are traveling. Give them easy and clear instructions to eliminate the stress.
Your house rules
You have rules, and we will get these from you. These get laid out to ensure everyone clearly understands and follows them.
In-house dining options
Do you have an in-house restaurant? Then promote it with the app and get more bookings by allowing guests to book a table directly from the app. You would be surprised how many guests avoid local dining, simply because they didn't know how to go about making a reservation.
Local cafes and restaurants
You know the local area, the best cafes and restaurants. We will extract this information from you, and use this to promote these to your guests. We can even incorporate easy bookings and directions from your hotel.
Local must-see attractions
Let guests know the best attractions to visit, maybe the safest beaches for children, the best surfing spots. Maybe mountain lookouts and walking trails.
Parking and transport information
Everyone needs to travel, so make it easy. Where is parking, what height restrictions apply. Where is the nearest bus, train or tram. What are the running hours, etc.
Medical, religious, and emergency contacts
Make a comprehensive list of all churches and mosques. List local hospitals, dentists and chemists. 
In 2022, you need to change the way you think about your guest and the information they want. Not only does a digital compendium reduce the use of paper, but it also reduces your time maintaining the guides.
As an accommodation business, you need to set yourself up to improve customer engagement and to drive new bookings. A digital compendium on your guests device will improve your reviews, which in turn will drive the new bookings.